THE CUSTOM EXPERIENCE
TALK ABOUT IT
Get in touch by filling the form below or call us. We'll discuss design ideas, options & budget.
GET IT DESIGNED
See sketches and concept art designed just for you.
SEE IT COME TO LIFE
Visualize your piece with high resolution 3D renderings, and we'll adjust every detail until you tell us it's perfect.
TREASURE IT
Receive your custom piece, with the assurance it's been made to wear and last a lifetime.
SCHEDULE YOUR CONSULTATION
Want to meet with our designer? Schedule a consultation at our Frogner location or a video call
Recently Completed Projects
Take a spin through some of our most recently completed designs
Sofie's Ruby and Opals ring
Our client provided us with a heirloom ruby from a brooch belonging to her great-grandmother. Our lapidary recut the gemstone to maximize the beauty (and value) of the ruby. We designed and handcrafted the ring in 18-Kt rose gold.
Anne's Diamonds Ring
We received a lot of pieces of jewelry that our client was not wearing anymore. We extracted all the diamonds and re-use all the gold to craft a new ring with a much modern flair for everyday use.
Annette's Precious Gemstones Bracelet
Our in-house gemologist hand selected a beautiful combination of precious and semi-precious natural and untreated gemstones. We designed and handcrafted in 18-Kt yellow gold.
Meredith's Garnet Ring
This beautiful ring comes from our client's grandmother. We repaired all the loose setting, keeping the original design and beautiful filigree work.
Ebba's Hoops
Our client has a low piercing in her ears and usually do not wear hoops as they do not hang nicely. We have crafted a very nice pair with a lower pin to fit her perfectly. A little trick!
Heidi's Bracelet
Our client wanted a bigger diamond version of our Solo Bracelet. She chose a soft rose gold in 18-Kt and on a chain that fits her wrist and her skin tone.
Frederik's Coat of Arms Cufflinks
Hand Engraved by our engraver, using the traditional art form of engraving to the smallest details.
Olga's Paraiba & Diamonds Ring
Our client provided us with the beautiful loose gemstone Paraiba from Brazil and we designed and handcrafted the ring using traditional techniques in 18Kt.
Frequently Asked Questions
What is Custom Jewelry? How does it work?
Custom designed jewelry is made to be a reflection of you, your passions, and experiences. Unlike most jewelry found in retail stores or online, custom jewelry is totally unique and is developed just for you to meet your specific preferences. When people come to us looking for custom jewelry, they're usually either clients looking to craft a unique piece, or designers looking to launch a new collection. If you would like something made especially for you, we begin with a conversation to discuss your design ideas, time frame and budget. During this process we answer any questions or concerns that you might have. When appropriate, design drawings are provided to you. Distance is never a problem, as we can easily ship or email the drawings to you. When a design agreement is reached, we usually request a 50% deposit to begin the next stage of work on your special piece of jewelry. We will proceed to make the model in wax, casting, setting and finishing. The balance of the payment will be due upon completion.
Can I use family/heirloom stones to create a new piece?
Family heirlooms are priceless treasures that are passed down from generation to generation and are full of meaning, stories and memories. Some classic heirlooms are getting old and might be losing stones or suffering other damages. You can bring your antiques to us for repairs and they'll be good as new. We can help you restore family heirlooms to their original shine! However, it's also a good idea to create new traditions. We can help you design and create a unique piece of jewelry to remember you and make te next generations feel connected to your place in history.
Can I have my own metal melted down and reused in a custom piece?
We have the capability to refine and recycle old pieces, to make the gold useable again. This is achieved by separating the pure gold from the alloy materials and re-alloying the pure gold with the proper metals in order to make 14-Kt or 18-Kt casting grain. So, if you have a sentimental piece of jewelry that you would like to be used in creating your new design, please let us know. We can certainly make that happen.
Isn't custom jewelry much more expensive?
People who make custom jewelry are artisans. They are craftsmen who work with their materials to create pieces of art. Expertise and quality do come with a price but Custom Designed Jewelry can cost less than you might expect. We will happily work with you on creating a design and material plan that will suit your budget. We have been designing and crafting custom piece from as little as 1500 nok ( around 140 euros / 165 USD ). Things like the complexity of the piece, the amount of work to do, and the materials you want to be used in your jewelry will contribute to the cost but you will always get a free quote from us before anything. One thing that many people are doing instead of having an entirely new piece made is to bring an older piece and have it reworked and modernized. Things like a grandmother's ring or an antique necklace can be deconstructed and updated to fit a modern taste while still utilizing much of the original materials. This cuts down on the cost, as well, since there is already a good amount of available materials within the piece to be reworked. We have a transparent bespoke process, where there are no hidden costs or middlemen to hike up the prices. Jewelry that is made from high-quality materials can last a lifetime if cared for properly and dramatically increase in value. This is why purchasing a piece of custom fine jewelry is an investment worth making.
Can I copy piece of Jewelry?
Yes and no. Yes, we can copy universal styles like a vintage halo setting with a split shank in white gold. No, we cannot make an exact copy of a specific Tiffany & Co. ring that you saw last week. Our designer can look at a few of your favorite designers and create something new that ties into your personal story.
How long does it takes?
Once we agree to a design / drawing, it usually takes between 4 to 6 weeks to craft your one-of-a-kind according to the complexity of the piece we are making.
What does "CAD/CAM" , "3D Modeling" mean? What is 3D printing ? and how is it related to jewelry?
CAD stands for "Computer Aided Design" and CAM stands for "Computer Aided Model." Using specialized software, we can create 3D digital models of your jewelry, which allows you to see what it will look like before you even commit to production. This process makes communication between both parties easier, and speeds up the production process. 3D printing has helped launched a new era in jewelry design in the past decade. After a 3d designer creates a digital model, a 3D printer produces the wax model. This wax model is the basis for the physical piece of jewelry. Although it's melted away during the production process, 3D printed waxes have revolutionized the speed and efficiency of the jewelry industry.
Where is my custom made piece of jewelry made?
All of our jewelry is design in our Oslo studio and handcraft in our workshop in Paris. The gemstones are carefully hand selected by our in-house gemologist. All of our craftsmen are highly qualified and have years of experience in the industry. We handcraft using innovative technology and traditional technics.
""I selected my own gemstones combination""
Elisabeth Crawford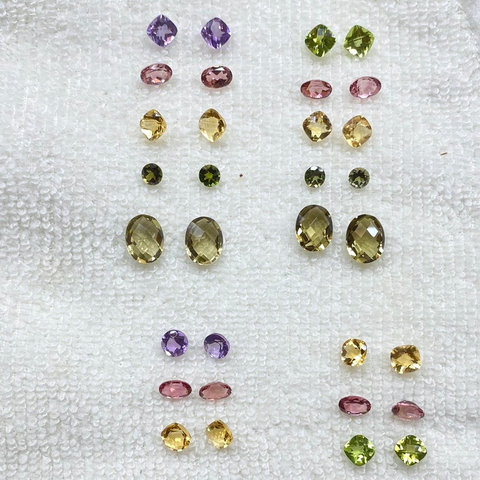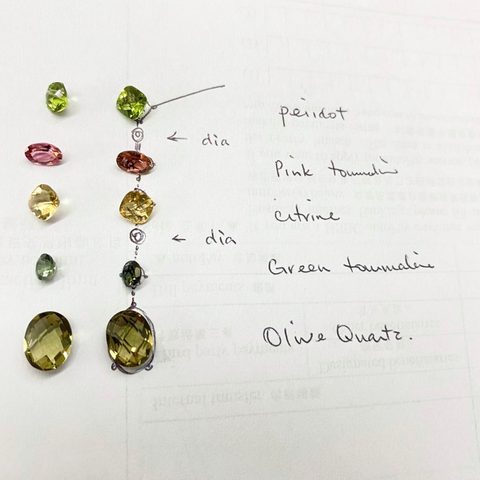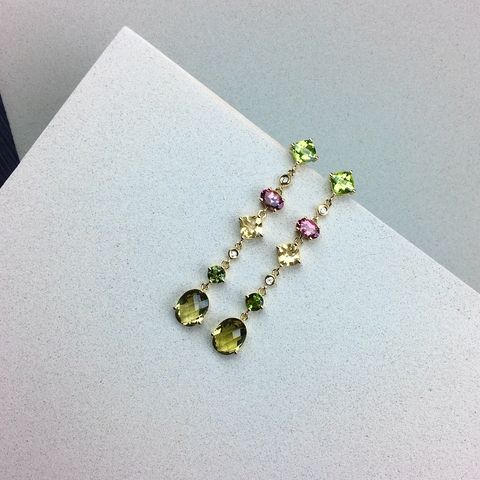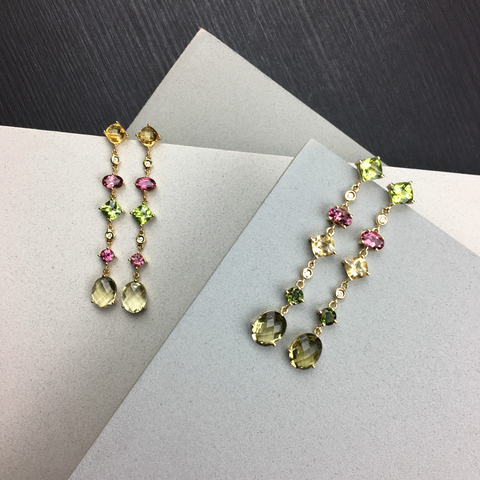 I really liked the design of the Sostanza Earrings from Pièces Uniques's Fine Collection but I wanted the colors of the gemstones to match a ring that I already had. The designer show me lots of gemstones with different dynamic of cut and colors that could pair well with my ring. I picked the one I love the best and 2 weeks later, this gorgeous pair of earrings was on my ears! I enjoy wearing them a lot and always get compliments!
"From one generation to the next"
Hanne & Aase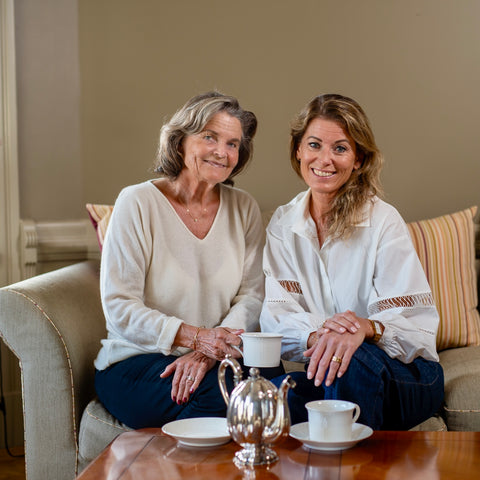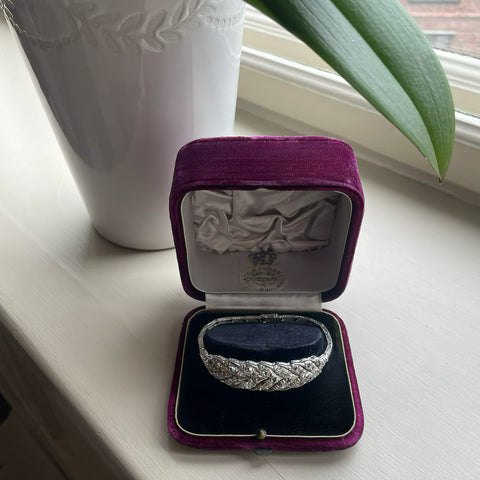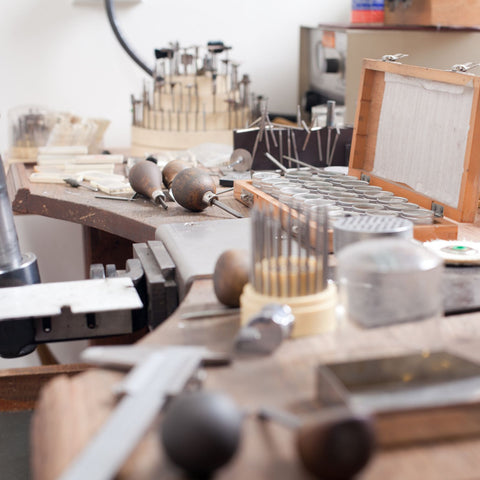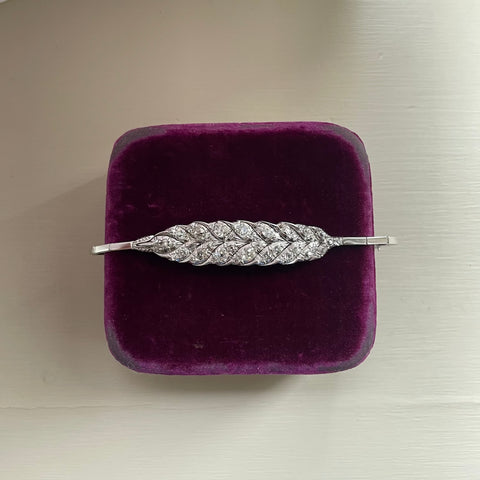 Aase: " My friends have been buying jewelry from Pièces Uniques since the beginning of the brand in Norway and I received myself some beautiful pieces as a gift. I introduced Pièces Uniques to my daughter and she now only buy jewelry from there! " Hanne: " I received a beautiful piece from my mother-in-law, which is at least a century old, which needed some repairs ( missing stones, settings etc.. ) Pièces Uniques did a fantastic restauration on my heirloom piece, I am so happy to be able to pass it on to my own daughter some day."
"I absolutely love my new earrings"
Sigrid Laugen Glastad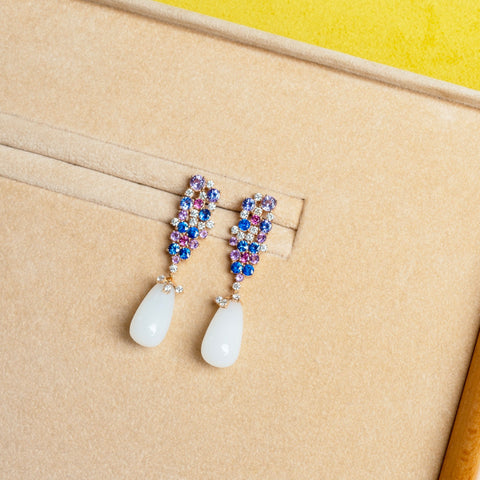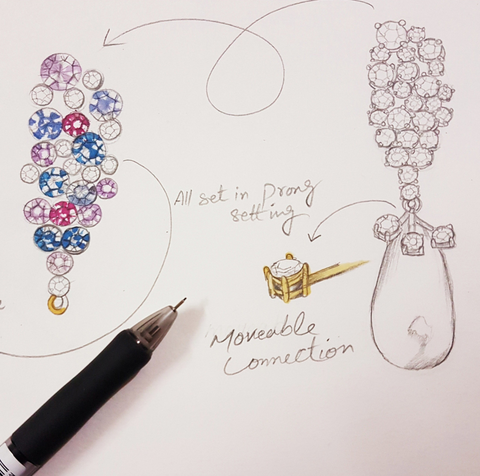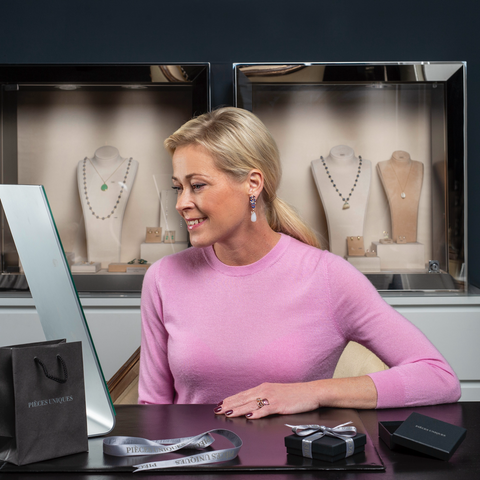 I commissioned a pair of cocktail earrings. Originally I had my existing diamonds and sapphires, added was Scapolites, Amethysts, Rhodolites, Tanzanite and set in 18-Kt rose gold. I absolutely love my new earrings and I feel so unique when I wear them. I learned that it is a process to create beautiful jewelry and that it should not be rushed. It takes time to find the right gemstones in the exact correct hue. Creativity cannot be forced.
"A piece to celebrate a milestone birthday"
Anjalie Astrup-Heber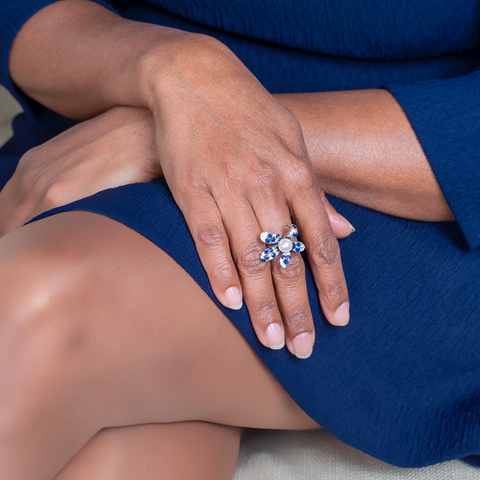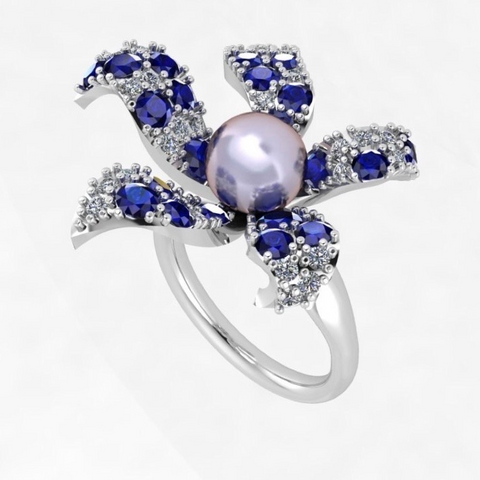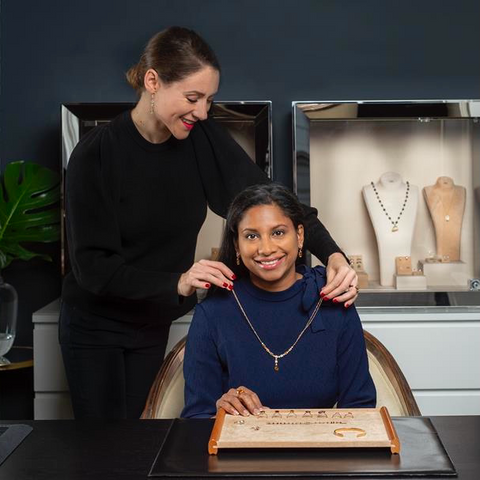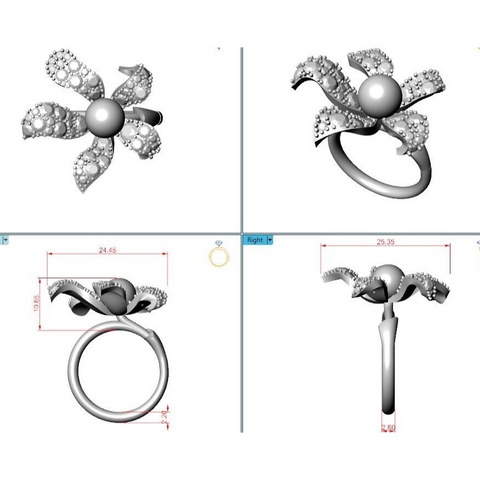 Custom jewelry is very close to my heart. Its how I view the experience of buying jewelry should be. I was delighted to discover the custom jewelry experience at Pieces Uniques and the detailed involvement and indepth knowledge of Sandrine. I provided her with a photograph of the scorpion orchid and we had a few meetings where discussed the design and how we would incorporate the precious stones from a pair of earrings I had inherited from my in-laws.
"A unique engagement ring for my future wife"
Philip & Evelyn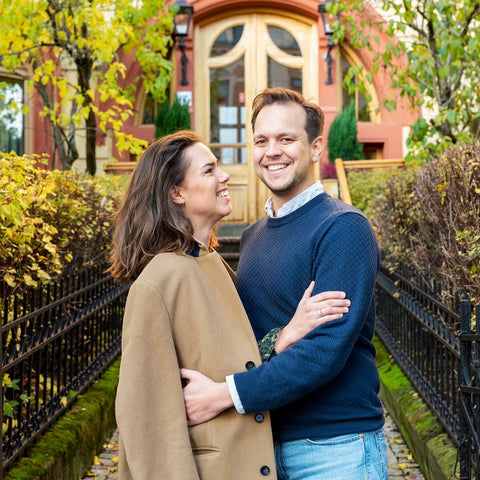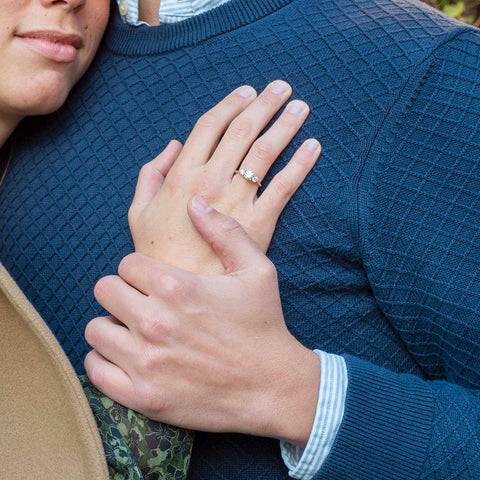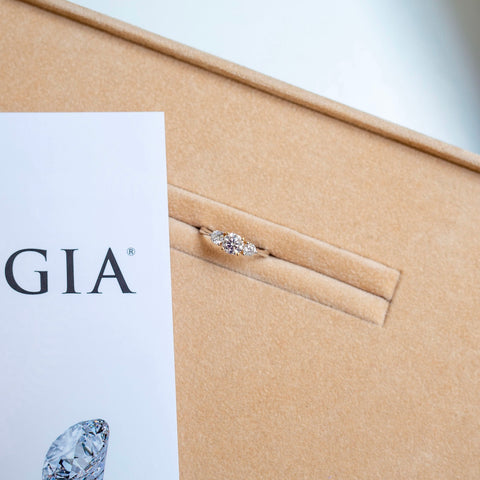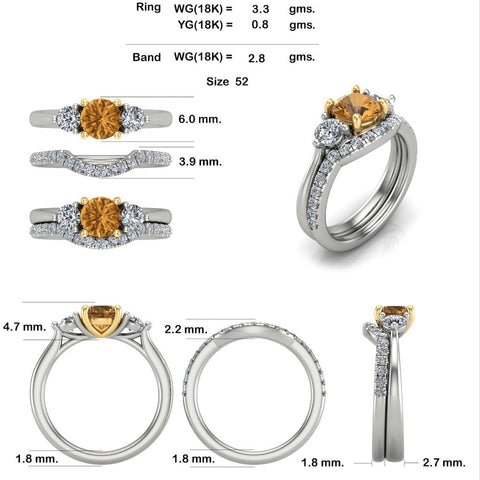 "While looking for an engagement ring that was not off the shelf but something special,I came across Pièces Uniques and especially Sandrine. She created a one-of-a-kind ring with a design that combined a beautiful meaning and elements of other heirloom jewelry that my now fiancée wears daily. My first thought when seeing the ring was wow. It is such a stunning and unique design,and it reflects the time and thought put into every single details."
""I've waited for the right time""
Kristin Sandaa Møller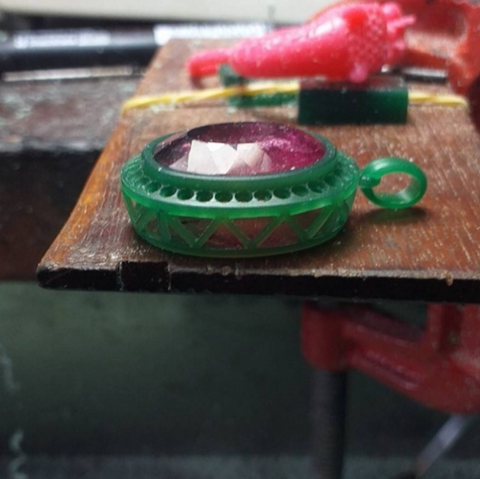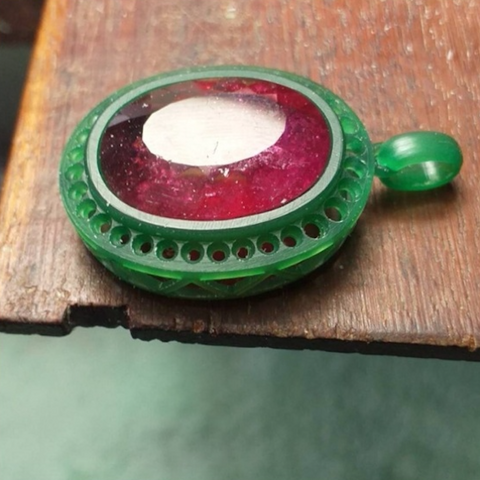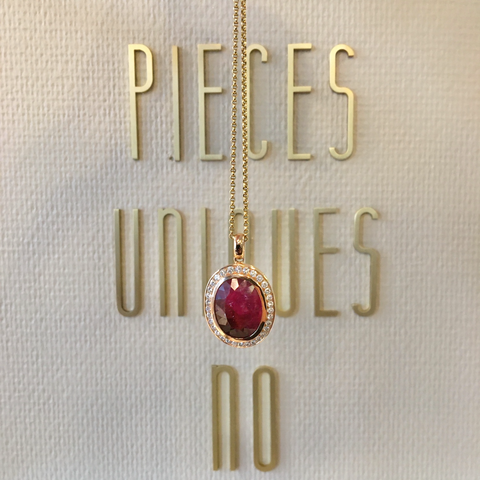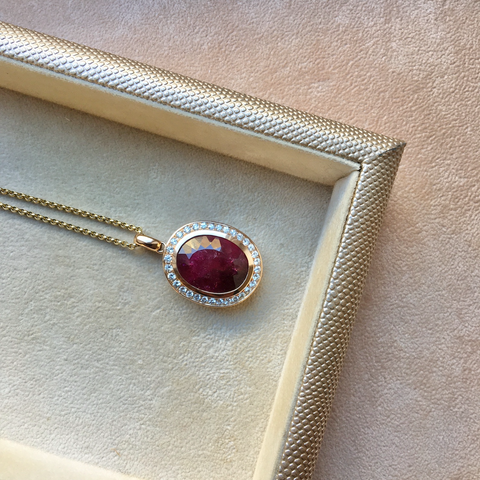 I brought with me home from Brazil this beautiful loose Tourmaline. Sandrine turned it into a magical pendant by using diamonds from some of my old jewelry that I never used. This masterpiece is hanging over my heart chakra every day, giving me so much love, beauty and joy. I am so thankful for everything that was made for me from Pièces Uniques.